The VLINDER Flexscreen is a design by StudioVIX, using Féline sustainable felt.
Your cocoon, your own space. Flexible, mobile and acoustic.
Comfy Flex Cocoon  – From briefcase, to deskscreen, to acoustic partition screen. 
Personalized Flex Cocoon
Carry with you, extend, and create your own space.
Tie back together, and take it to your next destination.
Created to shield you from all the stimuli around you. To take your moment of rest at school, at work, in a café or at home.
Your photos, your notes, your inspirations pinned to the flexscreen to create your own personalized surrounding.
Wherever you go, whatever your needs, VLINDER Flexscreen transforms to suit your requirements and provides you comfort.
Room-Divider
Hang it and use VLINDER as room divider; between work- and learning stations, or place VLINDER on the wall, there where acoustic comfort is requested.
Take VLINDER off its hanger, tie the panels together with its strap and
take your VLINDER Flexscreen with you.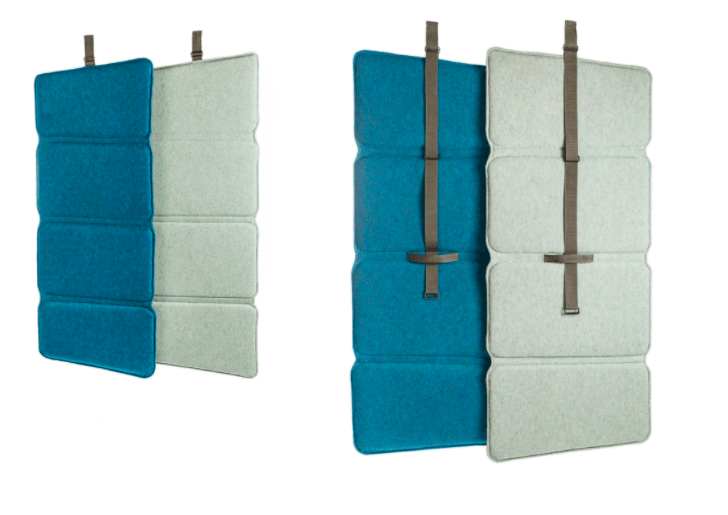 From plastic bottle to Flexscreen
The stuffing and the outer fabric of this Flexscreen are made of 100% recycled PET. Made of one recyclable material, makes this screen easy to recycle; cradle2cradle.
Inner fabric: Recycled PET
Outer fabric: 100% Recycled PET felt or Natural mulesing free Wool felt.
Acoustics
The stuffing and the outer fabric covering are both made of acoustic material, resulting in a great acoustic absorption value.
The inner material is made out of extra large recycled PET fibers, giving the screen the perfect strength and elasticity to keep its form. Thanks to the high density (40kg/m3), optimal acoustics are achieved.
The outer fabric is made of high quality, sustainable felt from Féline. Tested and rated with optimal acoustic performance, our felt makes for the perfect finishing.
Warm & Colourful Felt
VLINDER Flexscreen is covered with felt from Féline. Deep colors, made from 100% recycled and recyclable materials.
All our felts are produce without the use of water or drying machines during the felting process.
VLINDER : Minimal art – 100% gerecycled PET
Minimal art collection is the line of felts that emphasises the commitment of Féline to combine interior fabrics with environmental protection. The raw material of this line derives from the recycling of plastic bottles. .
Composition 100% Recycled PET
VLINDER : Fresco – Natural Wool Felt
Fresco Collection is the line of natural wool felts of Féline. Our wool felt is mulesing free. The unique properties of wool in combination with the trendy color range make this fabric highly suitable for design applications.
Composition 90% WO/10% PL